John Trumbull
(
June 6
,
1756
–
November 10
,
1843
) was an
American
artist during the period of the
American Revolutionary War
famous for his historical paintings including his
Declaration of Independence
, which appears on the reverse of the
$2 dollar bill
.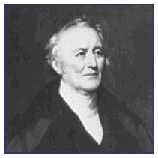 Early years
Trumbull sold a series of 28 paintings and 60 miniature portraits to
Yale University
in 1831 for an annuity of US$1000. This is by far the largest single collection of his works. The collection was originally housed in a neoclassical art gallery designed by Trumbull on Yale's
Old Campus
, along with portraits by other artists.
Trumbull's own portrait was painted by
Gilbert Stuart
and by many others.
In
1794
Trumbull acted as secretary to John Jay in London during the negotiation of the treaty with Great Britain, and in
1796
he was appointed by the commissioners sent by the two countries the fifth commissioner to carry out the seventh article of the treaty.
Middle years
Trumbull was appointed president of the
American Academy of Fine Arts
, a position he held for nine years, from
1816
to
1825
, though he did not get along with the students, and his skills declined. Eventually, his dictatorial behavior led the students to rebel against him and found the
National Academy of Design
. He published an autobiography in
1841
.
He died in
New York City
at the age of 88. He was originally interred (along with his wife) beneath the Art Gallery at
Yale University
that he had designed. In 1867, his collection, and the remains, were moved to the newly built Street Hall. The Trumbull Gallery was later razed.
Later years
The Death of General Warren at the Battle of Bunker Hill
The Death of General Montgomery in the Attack on Quebec
The Death of Aemilius Paullus at the Battle of Cannae
The Sortie Made by the Garrison of Gibraltar, 1789
Declaration of Independence
Battle of Trenton
Battle of Princeton
The Surrender of General Burgoyne at Saratoga
The Surrender of Cornwallis at Yorktown
Washington Resigning his Commission
Portraits of
George Washington
and
John Adams
Self-portrait
Portrait of
Josiah Bartlett